Available Birds at Petland Iowa City
Petland Iowa City's birds for sale are all born in the United States and bought from breeders that are regulated by the USDA. Pet birds make great companions and excellent pets! They brighten our homes, enrich our lives and can even improve our mental and physical health. The key to bringing happiness to all members of your family is choosing the right pet bird that fits your home and lifestyle. Contact us today to see our parakeets and parrots for sale.
Petland Iowa City carries parakeets and small parrots for sale in Iowa – and the food & supplies for all types of birds.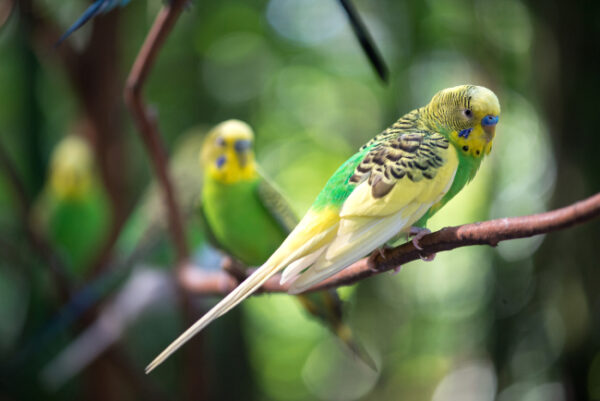 Budgerigar (parakeet)
The most popular pet bird, by far, is a type of parakeet called the Budgerigar (parakeet). Parakeets are native to Australia and have been domestically bred since the 1800s. In the wild, the only color to occur naturally is green, but through selective breeding, a variety of beautiful colors are available. No matter what color or sex you choose, your parakeet will be an excellent student. Both males and females can be tamed and taught how to speak. With adult parakeets, you can usually recognize the male because his cere, a soft wax-like covering where the nostrils are located, is most often blue. Most females have beige or brownish ceres. Baby parakeets are sometimes difficult to sex, the cere is often a light purple and not the blue or beige color of the adult.